Women United Volunteers Get in the Game
Tuesday, March 8th, 2022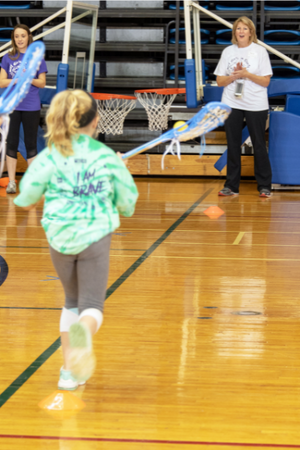 Western New York Girls in Sports was established in 2006 to promote sports and fitness to adolescent girls while enriching their lives through sports.
Through a grant from the Ralph C. Wilson, Jr. Foundation, United Way of Buffalo & Erie County and WNY Girls in Sports provide girls across Western New York with sports sampling and exposure to positive female role models.
A traditional WNY Girls in Sports event would find 200+ girls ages 9-12 gathered together with college athletes, volunteers, and even Olympic medal winners to try their hand at basketball, soccer, volleyball, football, golf and more. And even though COVID-19 may have thrown Girls in Sports a curveball, the sports sampling hasn't stopped. Through virtual events and smaller Girls in Sports Clinics at United Way-partner sites, WNY Girls in Sports continues to evolve.
Women United members have a long history of volunteering in support of WNY Girls in Sports.
Laura Dolan, Women United Advisory Board co-chair and WNY Girls In Sports volunteer, loves being part of the program. "Sports teaches girls confidence, to be courageous," says Dolan. "Sometimes your team is going to lose. Sometimes you're going to have a bad shot. But you learn to be resilient – to be a teammate and to be a leader. It's a perfect way for Women United to empower future women leaders in our community."
As volunteers, Women United members work in complement with college athletes. While the athletes teach the sports themselves, Women United volunteers are there to encourage, inspire and mentor the girls (while also having a lot of fun!)
For United Way, WNY Girls in Sports is more than just a health program. While keeping girls active is a great way to reduce childhood obesity (one of United Way's core impact priorities), studies also show that girls who are involved in sports are four times more likely to maintain an 85% or higher average in high school. Plus sports can open up college scholarship opportunities for girls who may not have imagined themselves pursuing higher education.
WNY Girls in Sports Founder Mary Wilson sums it up: "I know what you can get from sports. Lots of friends, lots of fun. Without United Way and the site facilitators this program would not happen. So many people and so many organizations have come together and are working with United Way to make this a success."
Learn more about WNY Girls in Sports: uwbec.org/wnygis
Sign up for our Women United newsletter: uwbec.org/womenunited