Full Service Community Schools
Wednesday, September 21st, 2022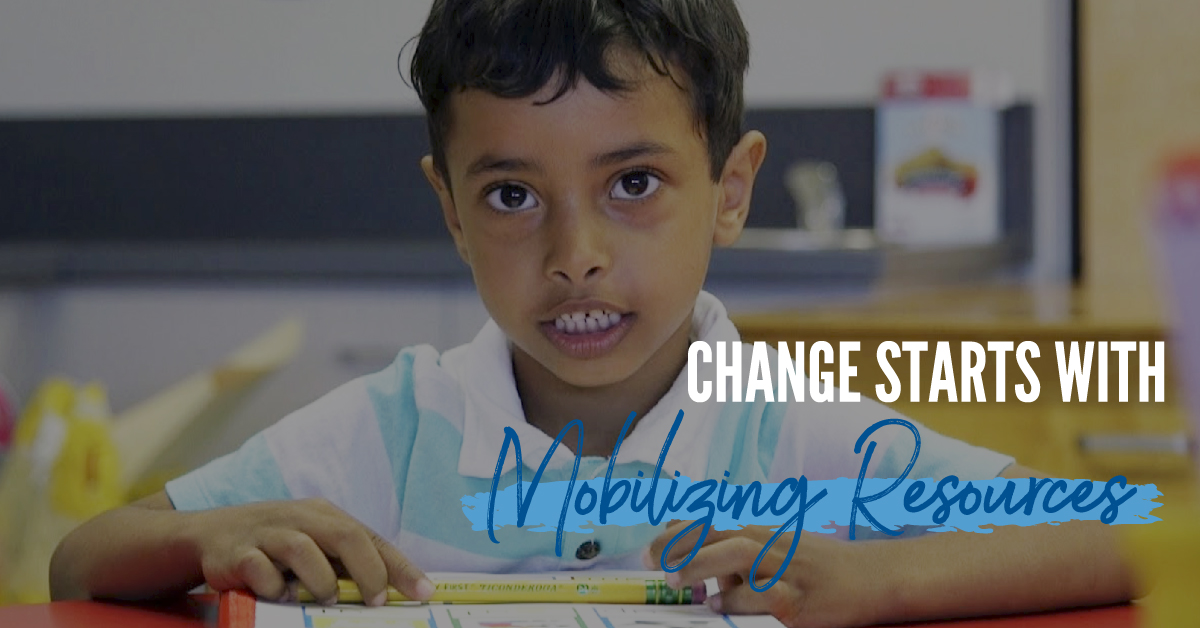 CHANGE STARTS WITH MOBILIZING RESOURCES.
Setting students up for success in school means surrounding the entire family with evidence-based support. Through the U.S. Department of Education Full Service Community Schools (FSCS) grant, United Way activates resources, partners and services to help meet the academic, social and health needs of students, their family members and community members.
For more than 20 years, United Way of Buffalo & Erie County has been leading the Full Service Community School initiative in our community, bringing millions of dollars into Erie County to improve education outcomes. This federal grant program helps address barriers to student success by bringing together partners that provide academic, social and health services for students' families and community members. Over the years, we have created a remarkable and unprecedented collaborative network of support that has included the Buffalo Public School District; BestSelf Behavioral Health; Catholic Charities of Western New York; Erie County Departments of Health, Mental Health, and Social Services; the YWCA, multiple health and human service providers; local foundations and corporations.
FULL SERVICE COMMUNITY SCHOOLS - THE EARLY DAYS
The FSCS model developed right here in Erie County was initially called "Closing the Gap", and it has been at the forefront of the Community Schools movement since formally implementing the model. In the beginning, we partnered with Buffalo Public Schools and a variety of public and private agencies to bring educational, mental health, and family support services to six of the district's lowest-performing schools. In 2008, our FSCS program received its first five-year $2.5 million grant from the United States Department of Education to bring our proven "Closing the Gap" model to two South Buffalo schools. In 2015 we were awarded another five-year $2.5 million award.
In 2016, the FSCS program was in full swing at South Park High School located in South Buffalo. It was making such a big difference that it was featured in a Buffalo News article and one BPS official was quoted as saying "state officials visiting Buffalo's struggling schools were so impressed with the work being done at South Park that they wanted to use it as a community schools model for the rest of the state." State officials have since used elements of our FSCS model to inform the New York State Department of Education Family and Community Engagement framework.

WHAT MAKES FULL SERVICE COMMUNITY SCHOOLS SPECIAL?
Our Full Service Community Schools program takes a whole school, community and family approach that focuses on intervention and prevention to improve climate and culture for the school and its local community. Each FSCS site is served by a full-time Site Facilitator who works to create programming for the students and leverage existing community resources to meet the full needs of the community. These site facilitators work to compile resources, programs, and services that meet the immediate needs of individual families, and the community at large. This continuum of resources that the site facilitator puts together serves as a bridge between the school and the local neighborhood.
The Full Service Community Schools program aims to help students with their academic achievement at all ages. It starts with investments in and partnerships with high-quality early childhood education programs to ensure children are ready for kindergarten. FSCS programs offer transition supports to both children and families as they age out of pre-k and get ready to take on kindergarten. Once children reach school age there is expanded learning time during and after school. To support family and community engagement, our FSCS sites provide community-based supports such as mental health services for students and neighborhood residents. One of the most popular components of the program has been the on-site food pantries that are available for students and families.
in the early years, FSCS even had a juvenile crime prevention and mentoring initiative in some programs, where students are able to participate in a variety of volunteer opportunities that include a local African American Fathers positive role model group, Meals on Wheels, and community job shadowing. Experiences like these helped to develop "soft-skills" which are instrumental in creating workforce readiness opportunities after they finish school.
FULL SERVICE COMMUNITY SCHOOLS WHERE ARE THEY NOW?
The FSCS sites in the BPS district continue to operate. These sites continue to be sustained through grants through New York State and private investment.
Most recently we brought the FSCS model to the Cleveland Hill Union Free School District. This site serves more than 800 children and 500 families and has been in operation since 2020. In the first year of the program, all students who were considered "at-risk" of falling behind their peers academically received Academic Intervention Services (AIS) to keep them on track. In that same year 88% of young children in pre-kindergarten were considered kindergarten ready. The most needed component of the FSCS program in this district has been the food distribution service, which has been accessed by students and families over 2,000 times.
For the Cleveland Hill FSCS project, we were also able to couple all of the student, family and community supports with trauma training and culturally responsive learning for the teachers in the district. This will allow for instructional practices that are responsive to students needs and build a sense of belonging in classrooms. United Way of Buffalo & Erie County is currently working with our local FSCS consortium and district officials to create a long-term funding sustainability plan for the program.