You Belong Book Project - August Book List
Monday, January 2nd, 2023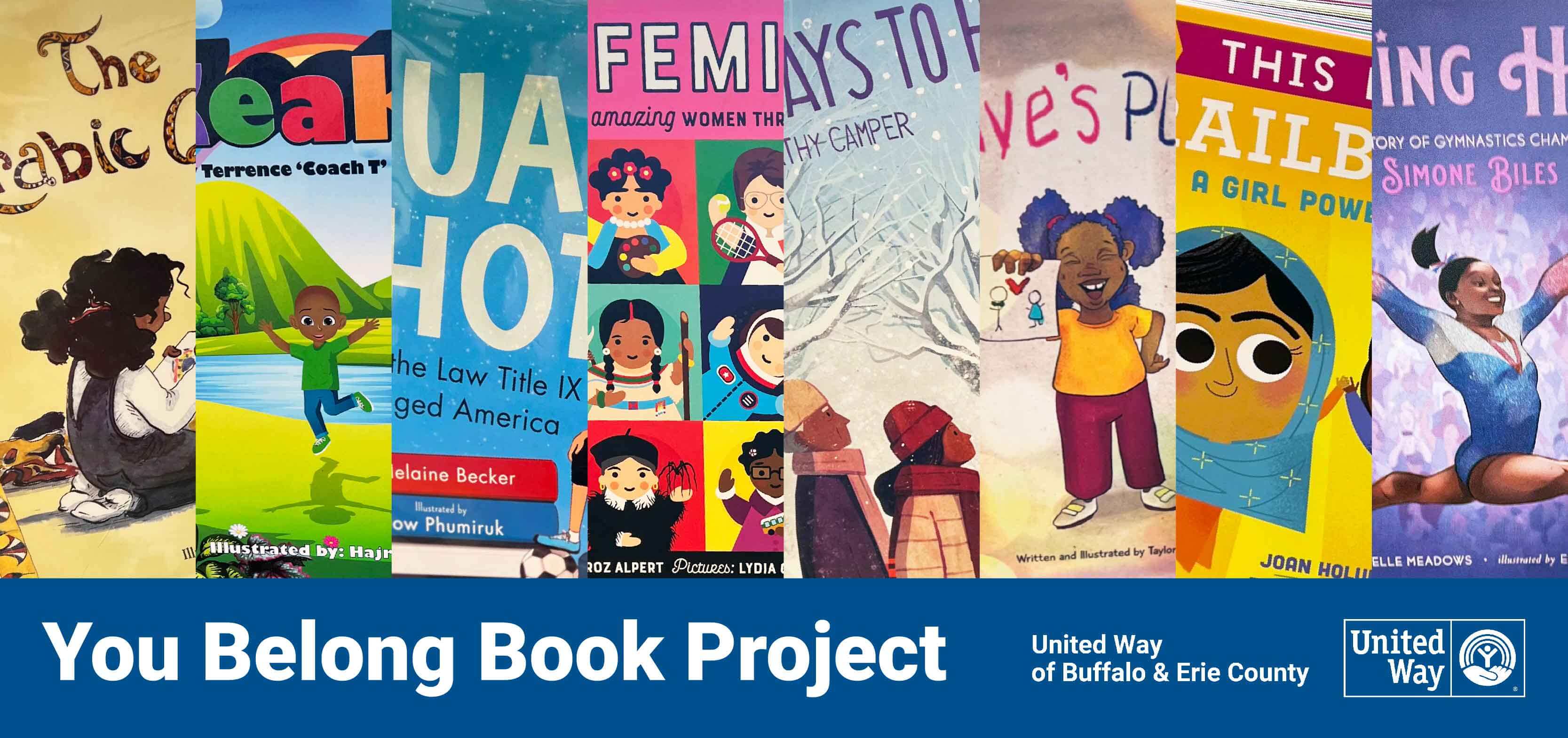 THIS MONTH'S READINGS:
August is School Readiness Month!
All month long we will be celebrating books that talk about going back to school and all of the feelings that go along with that. To kick off School Readiness Month we were joined by Dr. Brown-Hall the Superintendent of the Williamsville Central School District, who read All Are Welcome by Alexandra Penfold; illustrated by Suzanne Kaufman.
Other School Readiness Month readings include:

The Day You Begin by Jacqueline Woodson; illustrated by Rafael López read by Kate Kinney
Llama Llama Misses Mama by Anna Dewdney read by Susan DiNatali
The Kissing Hand by Audrey Penn; illustrated by Ruth E. Harper and Nancy M. Leak read by Dr. Geraldine Bard
The Night Before Kindergarten by Natasha Wing; illustrated by Julie Durrell read by Gayle Nixon
Watch the You Belong Book Project Story Time
BOOK DRIVE:
A quality education begins with reading. When children are able to read to learn, they imagine more richly, develop a stronger vocabulary and engage in critical thinking. For United Way, increasing access to books is one way we help set kids up for future success. In that spirit and to coincide with our weekly readings, United Way is hosting an ongoing book drive to benefit a variety of local nonprofit organizations.
Here's how you can help:
SHOP
Use our specially curated book lists for each cultural heritage and identity recognition month to purchase books from your favorite retailer! You can double your impact in the community by shopping locally for the books that you donate.
DROP
Books can be dropped off or shipped directly to United Way of Buffalo & Erie County, 742 Delaware Ave, Buffalo, NY 14209 (Lobby hours 9 a.m. - 3 p.m, M-F) Orders through local booksellers can also be delivered directly to UWBEC.
All books collected for the You Belong Book Project will be donated to several of our nonprofit partners in our community including Boys & Girls Clubs of Buffalo, Boys & Girls Clubs of the Northtowns, Buffalo Prenatal Perinatal Network, Family Help Center, CleveHill School District, King Urban Life Center, YWCA Western New York, Jericho Road Community Health Center, Peace of the City, Seneca Street Community Development Center, Valley Community Center and the West Side Community Center.
BOOK LIST FOR SCHOOL READINESS MONTH:
Below you will find a specially curated list of early childhood books in celebration of School Readiness Month. If you are donating to the book drive this month, we encourage you to pick a book from this list. Books with a * at the end are books that were read for this month's You Belong Book Project Story Time.
You can learn more about the You Belong Book Project, or watch the You Belong Book Project Story Time videos here.
All Are Welcome by Alexandra Penfold; illustrated by Suzanne Kaufman*
Corduroy Goes to School by Don Freeman and B.G. Hennessy; illustrated by Lisa McCue
Countdown to Kindergarten by Alison McGhee; illustrated by Harry Bliss
Froggy Goes to School by Jonathan London; illustrated by Frank Remkiewicz
How to Get Your Teacher Ready by Jean Reagan; illustrated by Lee Wildish
I Am Too Absolutely Small for School by Lauren Child
If You Take a Mouse to School by Laura Numberoff; Illustrated by Felicia Bond
Llama Llama Misses Mama by Anna Dewdney *
Maisy Goes to Preschool by Lucy Cousins
Staying Safe at School by Thomas Kingsley Troupe; Illustrated by Kat Uno
The Day You Begin by Jacqueline Woodson; illustrated by Rafael López*
The Kissing Hand by Audrey Penn; illustrated by Ruth E. Harper and Nancy M. Leak*
The Night Before Kindergarten by Natasha Wing; illustrated by Julie Durrell*
The Pigeon HAS to Go to School! by Mo Willems
The School Book by Todd Parr
Waffles the Chicken Classroom Jitters: A Children's Book About Starting School, Starting Conversations, and Making Friends by Ken and Ashley Matthews