You Belong Book Project - March Book List
Monday, January 2nd, 2023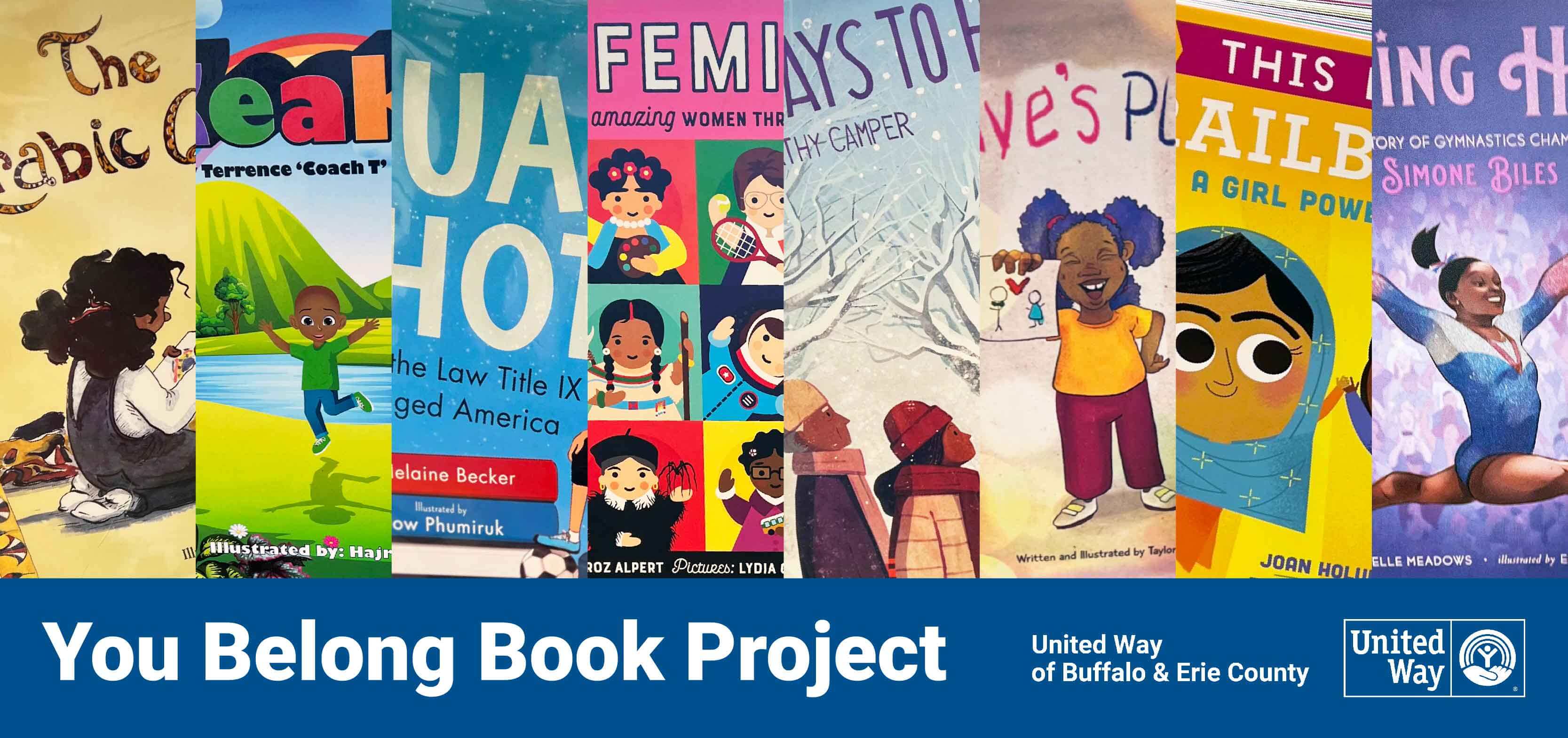 March Readings
March is Women's History Month and we are very excited to kick off this month's readings on International Womens Day! Laura Dolan one of the Co-Chairs of United Way of Buffalo & Erie County's Women United group stopped by to kick off Women's History Month by reading This Little Trailblazer: A Girl Power Primer by Joan Holub and Daniel Roode.
Dream Big, Little One by Vashti Harrison read by Jasmine Foster
Little Feminist: Celebrating 25 Amazing Women Throughout History by Yelena Moroz Alpert read by Colleen Reedy
An Equal Shot: How the Law Title IX Changed America by Helaine Becker read by Deputy County Executive Lisa Chimera
Below you will find a specially curated list of early childhood books in celebration of Women's History Month. If you are donating to the book drive this month, we encourage you to pick a book from this list. Books with a * at the end are books that were read for this month's You Belong Book Project Story Time.
You can learn more about the You Belong Book Project, or watch the You Belong Book Project Story Time videos here.
A is for Awesome: 23 Iconic Women Who Changed the World by Eva Chen
Amazing Grace by Mary Hoffman
An Equal Shot: How the Law Title IX Changed America by Helaine Becker *
Brave Girl: Glara and the Shirtwaist Makers' Strike of 1909 by Michelle Markel
Catching the Moon: The Story of a Young Girl's Baseball Dream by Crystal Hubbard
Coretta Scott by Ntozake Shange
Counting the Stars: The Story of Kathrine Johnson NASA Mathematician by Lesa Cline-Ransome
Dream Big, Little One by Vashti Harrison *
Dru Dream Girl by Margarita Engle
Frida: My First Frida Kahlo (Little People, Big Dreams) by Maria Isabel Sanchez Vegara
G My Name Is Girl: A Song of Celebration from Argentina to Zambia by Dawn Masi
Good Night Stories for Rebel Girls: 100 Immigrant Women Who Changed the World by Elena Favilli
Grace for President by Kelly DiPucchio
Hold On To Your Music: The Inspiring True Story of the Children of Willesden Lane by Mona Golabeck and Lee Cohen
I am Malala Yousafzai by Brad Meltzer
I Can Read Hockey Stories: Hayley's Journey by Sarah Howden
I Dissent: Ruth Bader Ginsburg Makes Her Mark by Debbie Levy
I Like Myself by Karen Beaumont
Interstellar Cinderella by Deborah Underwood
Kamala and Maya's Big Idea by Meena Harris
Little Feminist: Celebrating 25 Amazing Women Throughout History by Yelena Moroz Alpert*
Malala's Magic Pencil by Malala Yousafzai
Mae Among The Stars by Roda Ahmed
Me, Frida by Amy Novesky
Marisol McDonald Doesn't Match by Monica Brown
My Name is Bana by Bana Alabed
Not All Princesses Dress in Pink by Jane Yolk
Planting Stories: The Life of Librarian and Storyteller Pura Belpré by Anika Aldamuy Denise
Sonia Sotomayor: A Little Golden Book Biography by Sylvia Lopez
She Persisted: 13 American Women Who Changed the World by Chelsea Clinton
Suki's Kimono by Chieri Uegaki
The First Strawberries: A Cherokee Story by Joseph Bruchac
The Girl Who Ran: Bobbi Gibb, the First Woman to Run the Boston Marathon by Frances Poletti and Kristina Yee
The Paper Bag Princess Early Reader by Robert Munsch
The Princess Knight by Cornelia Funk
The Thing Lou Couldn't Do by Ashley Spires
This Little Trailblazer: A Girl Power Primer by Joan Holub and Daniel Roode*
This Is It by Daria Peoples-Riley
Women in Science (Board Book Edition) by Rachel Ignotovsky
Wilma Unlimited: How Wilma Rudolph Became the World's Fastest Woman by Kathleen Kroll