Tax Filing Information for 2022 Returns
---
Each year, free tax preparation programs run by United Ways across the U.S. bring millions of dollars back to local communities, largely thanks to the Earned Income Tax Credit (EITC) and Child Tax Credit (CTC).
---
FREE TAX PREPARATION KEY DATES
January 23: Tax filing season begins.

January 27: EITC Awareness Day

January 31: GetYourRefund.org begins its free tax filing services.
April 18: Tax filing deadline.
October 15: Last day to file taxes through GetYourRefund.org.
---
EITC AWARENESS DAY- JANUARY 27TH, 2023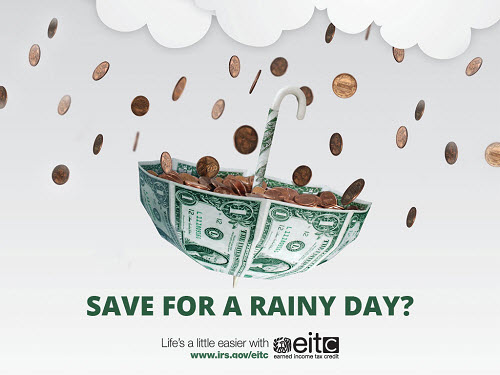 EITC Awareness Day is Friday, January 27, 2023.
What is Awareness Day? Community organizations, elected officials, state and local governments, schools, employers, and other interested parties, partner in a national effort to increase awareness of refundable credits by shining a large spotlight on them from various media sources. We want to generate extensive media coverage on this specific day (or days in proximity) to increase awareness among potentially eligible taxpayers at the time when most of them are filing or getting ready to file their federal income tax returns. The IRS joins partners nationwide to launch the Awareness Day outreach campaign to ensure millions of workers get the credits they earned and deserve.
Why is Awareness Important? IRS estimates four of five eligible taxpayers claim and get the EITC. Best of all, EITC combined with the CTC/ACTC/ODC is a financial boost for working people and your local economy. EITC and the CTC greatly reduce poverty for working families. The Center on Budget and Policy Priorities asserts that in 2018 the Child Tax Credit and EITC together lifted more children above the poverty line, 5.5 million, than any other economic support program. The American Rescue Plan Act, by making a significant set of changes to the Child Tax Credit, will lift another 4.1 million children above the poverty line, cutting the number of children in poverty by more than 40 percent. (CBPP, MAY 24, 2021, Chuck Marr, Kris Cox, Stephanie Hingtgen, and Kate Windham).
---
TWO WAYS TO FILE YOUR TAXES FOR FREE
Volunteer Income Tax Assistance (VITA)
The VITA program provides individuals and families who earn less than $60,000 annually with free, reliable assistance in filing federal tax returns. Those individuals that have their taxes prepared through VITA and receive a tax refund use those dollars to cover child care expenses, pay bills, as well as to save for the future. Call 2-1-1 to make an appointment and find a free tax preparation site near you (dial 2-1-1 or 1-888-696-9211).
MyFreeTaxes.com
MyFreeTaxes is an easy way for people to file their taxes for free. United Way offers this free online tax preparation software to every household with a simple return. You can file your taxes completely online from the comfort of your
home. Visit myfreetaxes.com to get started.
ADDITIONAL INFORMATION TO HELP YOU NAVIGATE TAX SEASON
Earned Income Tax Credit (EITC) and Child Tax Credit (CTC) for the current tax year
Find the maximum Adjusted Gross Income, investment income and credit amounts for tax year 2022.
Children or Relatives Claimed

Maximum AGI
(filing as Single, Head of Household, Widowed or Married Filing Separately*)

Maximum AGI
(filing as Married Filing Jointly)

Zero

$16,480

$22,610

One

$43,492

$49,622

Two

$49,399

$55,529

Three+

$53,057

$59,187
Investment income limit: $10,300 or less
Maximum Credit Amounts:
The maximum amount of credit you can claim
No qualifying children: $560

1 qualifying child: $3,733

2 qualifying children: $6,164

3 or more qualifying children: $6,935
---
Please visit irs.gov for the latest news, updates, and information related to the upcoming tax season.