Please check back for information regarding the upcoming tax season.
IMPORTANT TAX UPDATE
NOTE: The IRS is sending information letters to recipients of advance Child Tax Credit payments and third Economic Impact Payments.
The IRS started issuing information letters to advance Child Tax Credit recipients in December. Recipients of the third round of the Economic Impact Payments will begin receiving information letters at the end of January. Using the information in these letters when preparing a tax return can reduce errors and delays in processing.
People receiving these letters should keep them. Do not throw them away. These letters can help taxpayers or their tax professional prepare their 2021 federal tax return.
---
Each year, free tax preparation programs run by United Ways across the U.S. bring millions of dollars back to local communities, largely thanks to the Earned Income Tax Credit (EITC) and Child Tax Credit (CTC).
---
FREE TAX PREPARATION KEY DATES
January 24: Tax filing season begins.

January 28: EITC Awareness Day

January 31: GetYourRefund.org begins its free tax filing services.
April 18: Tax filing deadline.
October 15: Last day to file taxes through GetYourRefund.org.
---
EITC AWARENESS DAY- JANUARY 28TH, 2022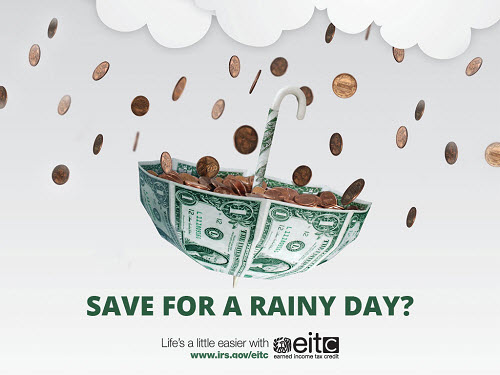 The 16th Anniversary of EITC Awareness Day is Friday, January 28, 2022.
What is Awareness Day? Community organizations, elected officials, state and local governments, schools, employers, and other interested parties partner in a national effort to increase awareness of refundable credits by shining a large spotlight on them from multiple media sources. We want to generate extensive news media coverage on this specific day (or days in proximity) to increase awareness among potentially eligible taxpayers at the time most are filing or getting ready to file their federal income tax returns. The IRS joins partners nationwide to launch the Awareness Day outreach campaign to ensure millions of workers get the credits they earned and deserve. This intensive media coverage helps us reach the broadest possible range of eligible taxpayers, including the underserved populations and the newly eligible taxpayers.
Why is Awareness Important? IRS estimates four of five eligible taxpayers claim and get the EITC. Best of all, EITC combined with the CTC/ACTC/ODC is a financial boost for working people and your local economy. EITC and the CTC greatly reduce poverty for working families. These working family credits lifted an estimated 9 million people out of poverty, including 5 million or more than half of them children. Learn more about EITC.
---
TWO WAYS TO FILE YOUR TAXES FOR FREE
Volunteer Income Tax Assistance (VITA)
The VITA program provides individuals and families who earn less than $58,000 annually with free, reliable assistance in filing federal tax returns. Those individuals that have their taxes prepared through VITA and receive a tax refund use those dollars to cover child care expenses, pay bills, as well as to save for the future. Call 2-1-1 to make an appointment and find a free tax preparation site near you (dial 2-1-1 or 1-888-696-9211).
MyFreeTaxes.com
MyFreeTaxes is an easy way for people to file their taxes for free. United Way offers this free online tax preparation software to every household with a simple return. You can file your taxes completely online from the comfort of your
home. Visit myfreetaxes.com to get started.
ADDITIONAL INFORMATION TO HELP YOU NAVIGATE TAX SEASON
Earned Income Tax Credit (EITC) and Child Tax Credit (CTC) for the current tax year
Find the maximum Adjusted Gross Income, investment income and credit amounts for tax year 2021.
Children or Relatives Claimed

Maximum AGI
(filing as Single, Head of Household, Widowed or Married Filing Separately*)

Maximum AGI
(filing as Married Filing Jointly)

Zero

$21,430

$27,380

One

$42,158

$48,108

Two

$47,915

$52,865

Three+

$51,464

$57,414
Investment income limit: $10,000 or less
Maximum Credit Amounts:
The maximum amount of credit you can claim
No qualifying children: $1,502

1 qualifying child: $3,618

2 qualifying children: $5,980

3 or more qualifying children: $6,728
* Taxpayers claiming the EITC who file Married Filing Separately must meet the eligibility requirements under the special rule in the American Rescue Plan Act (ARPA) of 2021.
---
Child Tax Credit (CTC) Updates
Important changes to the Child Tax Credit helped many families get advance payments of the Child Tax Credit starting in the summer of 2021.
Half the total credit amount was paid in advance monthly payments and you will claim the other half when you file your 2021 income tax return. The first advance payments were issued on July 15, 2021.
If you don't have a bank account for direct deposit, see Don't have a bank account?

How It Works
Check if you're eligible and enrolled for advance payments

View your bank account and mailing address

View your payments: View Advance Payments
---
Additional Help for Tax Letters 6419 and 6475
Understanding Your Letter 6419 – includes a link to the letter itself as well as links to FAQs on the letter and all matters related to the Advanced Child Tax Credit.
Your Third Economic Impact Payment-Letter 6475 will be issued to EIP recipients in late January. This letter will help Economic Impact Payment recipients determine if they are entitled to and should claim the recovery rebate credit on their 2021 tax returns when they file in 2022.
Letter 6475 only applies to the third round of Economic Impact Payments, which were issued in March through December of 2021. The third round of Economic Impact Payments, including "plus-up" payments, were advance payments of the 2021 recovery rebate credit that would be claimed on a 2021 tax return. Plus-up payments were additional payments the IRS sent to people who received a third Economic Impact Payment based on a 2019 tax return or information received from the Social Security Administration, Railroad Retirement Board or Veterans Affairs. Plus-up payments were also sent to people who were eligible for a larger amount based on their 2020 tax return.
---
CARES Act Charitable Deduction
On March 27, 2020, Congress enacted The CARES Act, which created a $300 charitable deduction for the 120 million Americans who do not itemize their taxes. Several of these provisions were extended or expanded into 2021. United Way of Buffalo & Erie County donors can deduct up to $300 in charitable contributions made before December 31, 2021. For 2021, this above-the-line deduction is increased to $600 for cash donations for married couples filing jointly who do not itemize tax deductions.
---
Please visit irs.gov for the latest news, updates, and information related to the upcoming tax season.