UNITED WAY OF BUFFALO & ERIE COUNTY'S TOCQUEVILLE SOCIETY HONORS JOHN N. WALSH, III AS 2023 PHILANTHROPIST OF THE YEAR
Wednesday, October 18th, 2023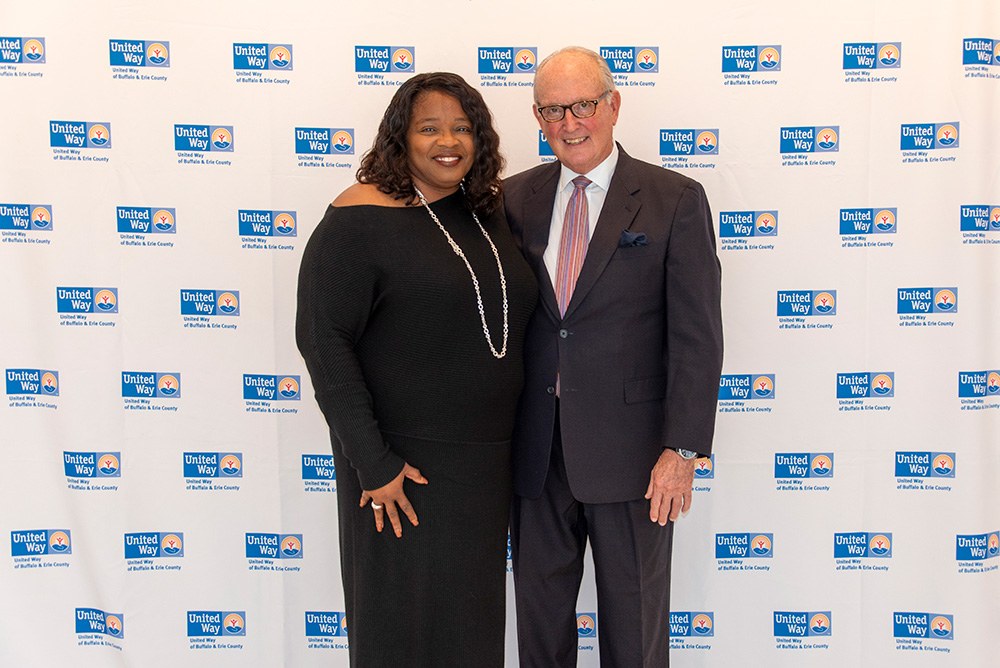 Buffalo, N.Y., October 18, 2023 – United Way of Buffalo & Erie County (UWBEC) last night held its annual Tocqueville Event in the Ralph C. Wilson, Jr Town Square of the Buffalo AKG Art Museum. Hosted by Mrs. Mary Wilson and with nearly 200 attendees, the event recognized John N. Walsh, III – known to friends as Jack – as United Way's 2023 Philanthropist of the Year.
United Way's Philanthropist of the Year is chosen through a community-driven selection process to recognize the extraordinary generosity of a person or couple who has made a lasting impact in Buffalo & Erie County. For Walsh, the award is an acknowledgement of nearly 40 years of service to United Way of Buffalo & Erie County and the larger Western New York nonprofit community. His impressive resume includes numerous volunteer roles – chairing a dozen nonprofit boards, numerous area annual giving or capital campaigns, and being part of ten executive leader search committees in addition to his service as a United Way Board Member, Advisory Council Member, and two terms as chair of the United Way Tocqueville campaign.
Being recognized as the United Way Tocqueville Society Philanthropist of the Year was a surprising honor for Walsh, who credits his family and upbringing for his strong sense of community. He recalls the hard work and sacrifice of his grandparents and parents to ensure their children all received a high quality education, along with the responsibility to give back that has always guided the family business of which he is now chairman, Walsh Duffield Companies. He reflects on the way his mother Sally, a woman of great kindness and courage, served as the anchor of their extended family. And later, his beloved late wife Connie, who Walsh admired from the moment they first met, became "a north star" for their family's values.
Walsh's hope is that this recognition will be used to call attention to the importance of encouraging all people, in their own way and within their own means, to get involved to help solve community problems.
"These are serious days," says Walsh. "You ought to ask yourself this question: is this society going to work if only those of us that can afford it are happy? And in my view it isn't. It isn't automatic that you can easily survive in this world if you're not a star. If you're struggling to make your mortgage payment. If you're struggling to keep your job. If you're struggling to learn where your kids are going to get a quality education. If you're worried about your healthcare program. If there isn't equity in your access to healthcare. And one of the biggest referees in keeping a level playing field is United Way."
Learn more about United Way of Buffalo & Erie County's Tocqueville Society at uwbec.org/tocqueville-society.