UNITED WAY'S NEW CEO SHARES VISION FOR THE FUTURE AT ANNUAL REPORT TO THE COMMUNITY
Thursday, November 9th, 2023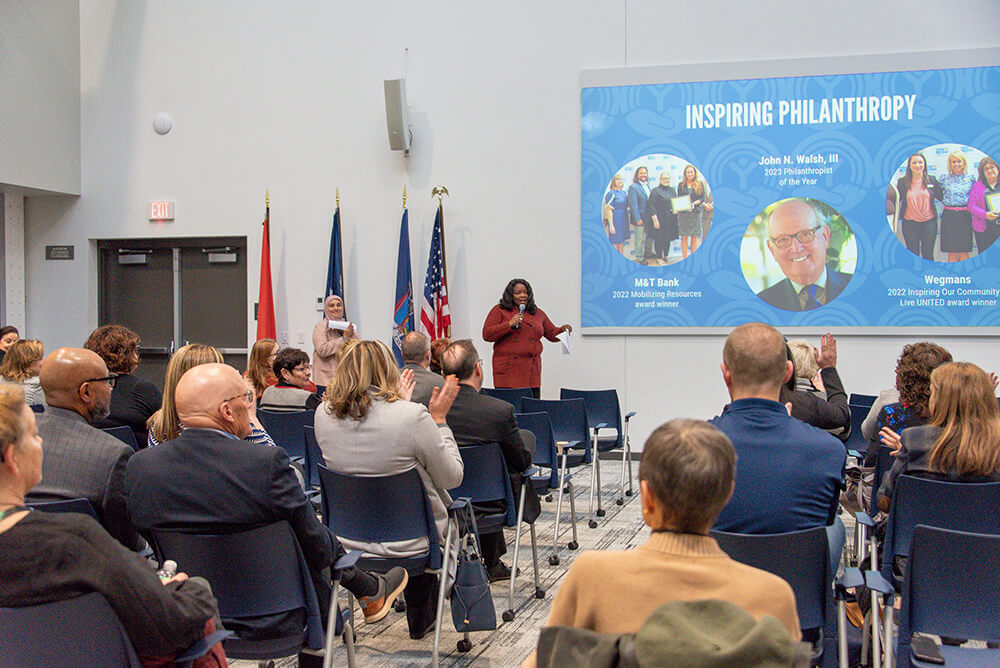 UNITED WAY'S NEW CEO SHARES VISION FOR THE FUTURE AT ANNUAL REPORT TO THE COMMUNITY
Event marks the release of United Way's 2022-2023 Community Impact Report
BUFFALO, NY, November 09, 2023 – United Way of Buffalo & Erie County this morning held its 2023 Report to the Community at Northland Workforce Training Center. This annual event is a celebration of the programs, partnerships and people that together make up the work of United Way in our local community. New UWBEC President and CEO Trina Burruss shared a powerful message about what she has learned in her first year in the role and her vision for what's next for United Way and our community.
"Over the course of the last year, I've spent a lot of time moving about the community, meeting with supporters, business and nonprofit leaders, and community members," said Burruss. "Those conversations have helped shape my understanding of United Way's role in our Buffalo and Erie County community and a vision for the future. Time and time again, three themes have emerged. Action. Access. ALICE. These three words are what United Way is all about. Taking action to increase access for the 40% of our community living below the ALICE threshold, in financial hardship."
Burruss's remarks expanded upon these themes, highlighting learnings about the needs of these Asset LImited, Income Constrained, Employed families in our community from new data released earlier in 2023. She was joined at the podium by United Way of Buffalo & Erie County Chief Program officer Kathy Jamil, who gave an overview of United Way's approach to supporting the health, education and financial well-being of those living below the ALICE survival threshold.
"For many years, United Way has created programs, systems, policies and practices that seek to uplift us all and leave no one behind. But as we move into a new era, we are shifting the way we align our resources around this work and embracing a holistic, life-stage model so that we can be more effective and more impactful in Erie County."
In attendance for today's program were nearly 100 business and nonprofit leaders, United Way board members, staff and supporters. The event also marks the release of United Way's 2022-2023 Community Impact Report, available online now at uwbec.org/annualreport.
ABOUT UNITED WAY OF BUFFALO & ERIE COUNTY
For over 100 years, United Way of Buffalo & Erie County has fought to improve the health, education, and financial stability of every person in our community. By forging unlikely partnerships, finding new solutions to old problems, and mobilizing the best resources, we inspire individuals to join the fight against our community's most daunting social crises. We believe that to live better, we must LIVE UNITED. Learn more at uwbec.org.

###