TYou Belong Book Project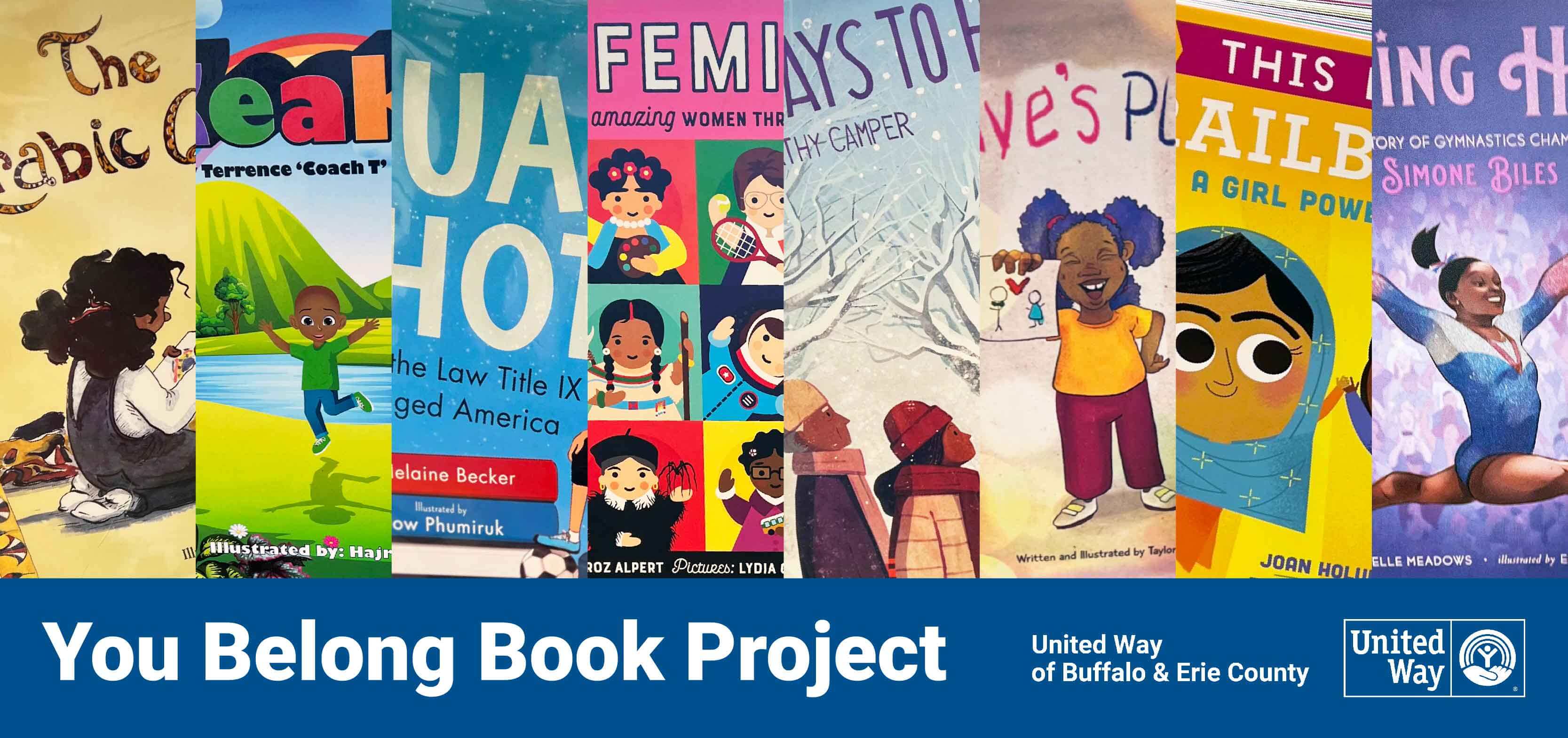 In February, United Way of Buffalo & Erie County kicked off a new initiative -- the You Belong Book Project, which is a year-long celebration of cultural heritage and identity through children's books. Each week, a community member will stop by to share a story they love with our audience. The recordings will be archived on United Way's YouTube channel, creating a rich and diverse library of early childhood readings. Please use the quick menu below to find book lists, this month's readings and more.
This Month's Readings | Book Drive | This Month's Book List | Book Lists for Other Months
This Month's readings:
September is Hispanic Heritage Month!
All month long we will be reading books celebrating Hispanic heritage. To kick off we were joined by Stephanie Riviera who read Turning Pages: My Life Story by Supreme Court Justice Sonia Sotomayor!
Other Hispanic Heritage readings include:
The Coquíes Still Sing by Karina Nicole González; illustrated by Krystal Quiles * read by Alexander Burgos
De Aquí Como El Coquí (Spanish Edition) written and illustrated by Nomar Perez* read by Valarie Cruz
Watch the You Belong Book Project Story Time
Book Drive:
A quality education begins with reading. When children are able to read to learn, they imagine more richly, develop a stronger vocabulary and engage in critical thinking. For United Way, increasing access to books is one way we help set kids up for future success. In that spirit and to coincide with our weekly readings, United Way is hosting an ongoing book drive to benefit a variety of local nonprofit organizations.
Here's how you can help:
SHOP
Use our specially curated book lists for each cultural heritage and identity recognition month to purchase books from your favorite retailer! You can double your impact in the community by shopping locally for the books that you donate.
DROP
Books can be dropped off or shipped directly to United Way of Buffalo & Erie County, 742 Delaware Ave, Buffalo, NY 14209 (Lobby hours 9 a.m. - 3 p.m, M-F) Orders through local booksellers can also be delivered directly to UWBEC.
All books collected for the You Belong Book Project will be donated to several of our nonprofit partners in our community including Boys & Girls Clubs of Buffalo, Boys & Girls Clubs of the Northtowns, Buffalo Prenatal Perinatal Network, Family Help Center, CleveHill School District, King Urban Life Center, YWCA Western New York, Jericho Road Community Health Center, Peace of the City, Seneca Street Community Development Center, Valley Community Center and the West Side Community Center.
Book List for
School Readiness Month

:

Below you will find a specially curated list of early childhood books in celebration of Hispanic Heritage Month. If you are donating to the book drive this month, we encourage you to pick a book from this list. Books with a * at the end are books that were read for this month's You Belong Book Project Story Time.

You can learn more about the You Belong Book Project, or watch the You Belong Book Project Story Time videos here.

All Around Us by Xelena Gonzales; Illustrated by Adriana M. Garcia
All the Way to Havana by Margarita Engle; Illustrated by Mike Curato3
De Aquí Como El Coquí (Spanish Edition) written and illustrated by Nomar Perez*
Alma and How She Got Her Name by Juana Martinez-Neal
El Cucuy is Scared, Too! by Donna Barba Higuera; Illustrated by Juliana Perdomo
Grandma's Gift by Eric Valasquez (Puerto Rico)
Lucero by Yuyi Morales
My Two Border Towns by David Bowles, Illustrated by Erika Maza (US/Mexico)
Planting Stories: The Life of Librarian and Storyteller Pura Belpre by Anika Aldamuy Denise; Illustrated by Paola Escobar
The Coquíes Still Sing by Karina Nicole González; illustrated by Krystal Quiles *
The Flying Girl: How Aida de Acosta Learned to Fly by Margarita Engle; Illustrated by Sara Palacios
The Life of/La Vida de Dolores by Patty Rodriguez & Ariana Stein; Illustrated by Citlali Reyes
Tia Fortuna's New Home: A Jewish Cuban Journey by Ruth Behar; Illustrated by Devon Holzwarth
Tito Puenta - Mambo King by Monica Brown; Illustrated by Rafael Lopez
Turning Pages: My Life Story by Sonia Sotomayor Illustrated by Lulu Delacre*
What Will You Be? by Yamile Saied Mendez; Illustrated by Kate Alizadeh

Please use the links below to find book lists each month