100 Days Leading United Way
Friday, April 14th, 2023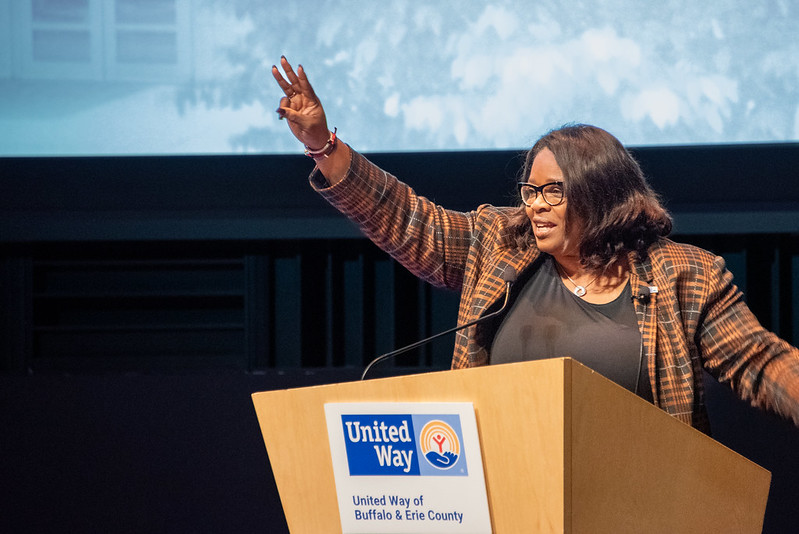 reflections on 100 days leading united way of buffalo & Erie county
A message from President and CEO Trina Burruss
As a winter marked by two historic snowstorms turns to spring, I am honored to have completed my first 100 days as President and CEO of United Way of Buffalo & Erie County. As I reach this milestone, I first and foremost want to express my gratitude to all our dedicated staff, volunteers, and supporters who have welcomed me with open arms and shared their insights, experiences and aspirations for our United Way. I have been humbled by your commitment to our mission and your tireless efforts to make a positive impact in our community.
During my first 100 days, I have focused first on being curious, and on carrying that curiosity in meetings with community leaders, funders, program partners and staff. Through these conversations, I have gained a greater appreciation for the vital role that United Way plays in lifting people out of hardship in our community. I have been inspired by the resilience, creativity and passion of our team. And I have learned a lot about where we're starting from on this new journey together – and what some of our key priorities need to be in order to carry United Way's legacy of leadership and service in Buffalo and Erie County into a new era.
A few immediate opportunities emerged to operationalize those priorities.
From day one of my tenure, we have focused on increasing United Way's capacity to respond quickly to community crises by launching the Community Resilience Fund. The Fund now exists as an ongoing vehicle for mobilizing resources in times of emergency and beyond, providing support and building lasting financial security for families in our region.
Sitting where I sit at United Way also provides a lens into some of the challenges facing the nonprofit community – and its employees. In the last few months, we've taken steps to increase our support of nonprofit workers with a pilot of Work/Life Solutions at six local nonprofits. Through this program, nonprofit workers will gain access to a Work/Life Solutions resource coordinator, financial education, and a short-term loan program to help meet unexpected expenses, with a goal of reducing stress, improving financial well-being and supporting the continued productivity of frontline nonprofit professionals.
Included in that list of key priorities is also leaning into and increasing visibility around the signature programs and initiatives United Way is well known for. Things like 211WNY, United Way's Community Impact coalitions, the use of data about our region's ALICE (Asset-Limited, Income-Constrained, Employed) population to understand community needs and uncover disparities. These are the strongest tools in our toolbox when it comes to building lasting solutions that increase access and opportunity. You can expect to hear more about them in the coming weeks and months.
It's clear there is still work to be done to create the change our community needs. But 100 days in, I and United Way are energized and ready to meet this moment. To be informed by data, but to lead with heart. And to invite our entire community to be part of building a strong and vibrant Buffalo and Erie County.
Thank you for your trust, your partnership and your commitment to United Way of Buffalo & Erie County's mission. Here's to a future of continued curiosity and collaboration.
-Trina Burruss, President and CEO, United Way of Buffalo & Erie County