2018 Philanthropists of the Year: Robert and Chesterine Stevenson
Thursday, November 1st, 2018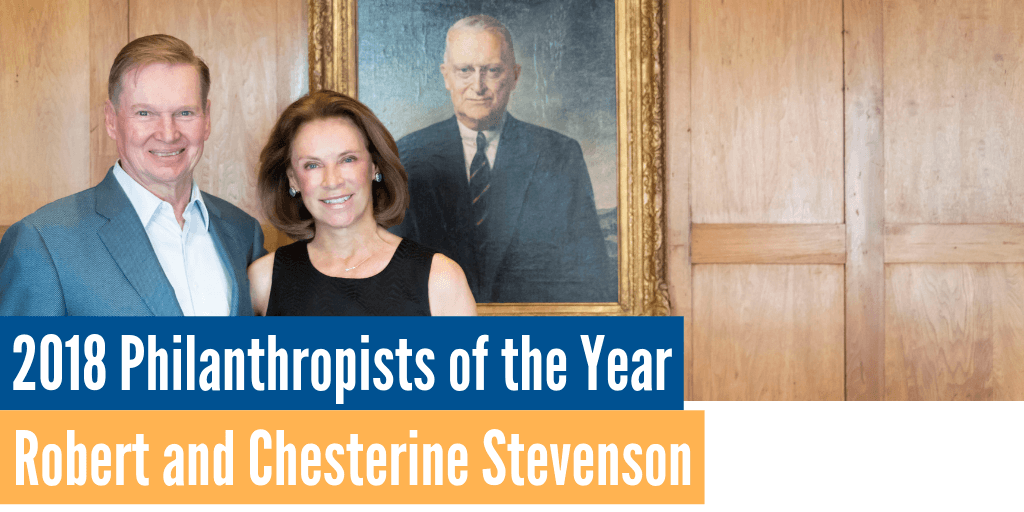 The Stevenson family name is synonymous with Eastman Machine, which has been in business in WNY for over 130 years. But it is the family behind the business that makes our community stronger. Robert and Chesterine Stevenson's commitment to this community exemplified by whole-hearted community service, strong organizational leadership, and selfless philanthropy is why we are proud to name them as the 2018 Philanthropists of the Year.
Robert L. Stevenson is President & CEO of Eastman Machine Company and the fourth generation of his family to head the business. A 1969 graduate of St. Paul's School, Robert received his B.A. from Yale University in 1973. He is also a 1975 graduate of the Harvard Business School certificate program. Upon graduation from Yale, he joined Eastman Machine Company as a full-time employee. During his tenure at Eastman, he has filled a variety of roles such as Service Manager, VP of Manufacturing, Corporate Treasurer, and was named President in 1983.
Robert has had a long and fulfilling relationship with United Way. In 1982 he chaired the manufacturing division for United Way annual campaign. Robert joined what was then known as the House of Delegates (currently called the Advisory Council) at United Way in 1995. Robert joined 30+ other prominent community leaders to help guide United Way's strategic vision. Following the House of Delegates, Robert served two, three-year terms as a member of the United Way board of directors. During this time, he also served as a member of the executive committee of the board. Robert also served as chair of the Tocqueville Society for three years and played a role in honoring those years Philanthropist of the Year.
Most recently, in 2017 Robert, Chesterine and Eastman Machine joined United Way in celebrating our Centennial year. They became a Founding Member of our Century Circle and made a pledge to United Way's endowment fund thereby helping ensure the organization's future for the next 100 years.
Outside of United Way, Robert has long been an active member of the community, having served on many boards over the years in a number of different capacities. He has served as Chairman of the World Trade Center of Buffalo, Child and Family Services and Medaille College. He has also served on the boards of InSyte Consulting and the New York Federal Reserve Advisory Board. He has served as a trustee of the Albright Knox Art Gallery, the Buffalo Red Cross, and the Elmwood Franklin School.
Chesterine Stevenson spent her career in the classroom. She primarily taught children who needed extra support in the classroom and her experiences working in the resource room motivated her to continue working with children who had learning disabilities.
Together Chesterine and Robert have six children, five daughters, and one son, as well as 11 grandchildren.
As if their personal contributions to our community were not enough, in 2010 the Stevenson family established the Eastman Foundation to provide financial and in-kind support for educational, recreational, and social services with an emphasis on the youth and social service organizations in Western New York. The foundation strongly believes in the support of educational opportunities as the cornerstone for a better community.
On behalf of the community they love so deeply and serve so well, we celebrate Robert and Chesterine Stevenson as the 2018 Philanthropists of the Year.