Gateway to Golf 2023
Friday, September 8th, 2023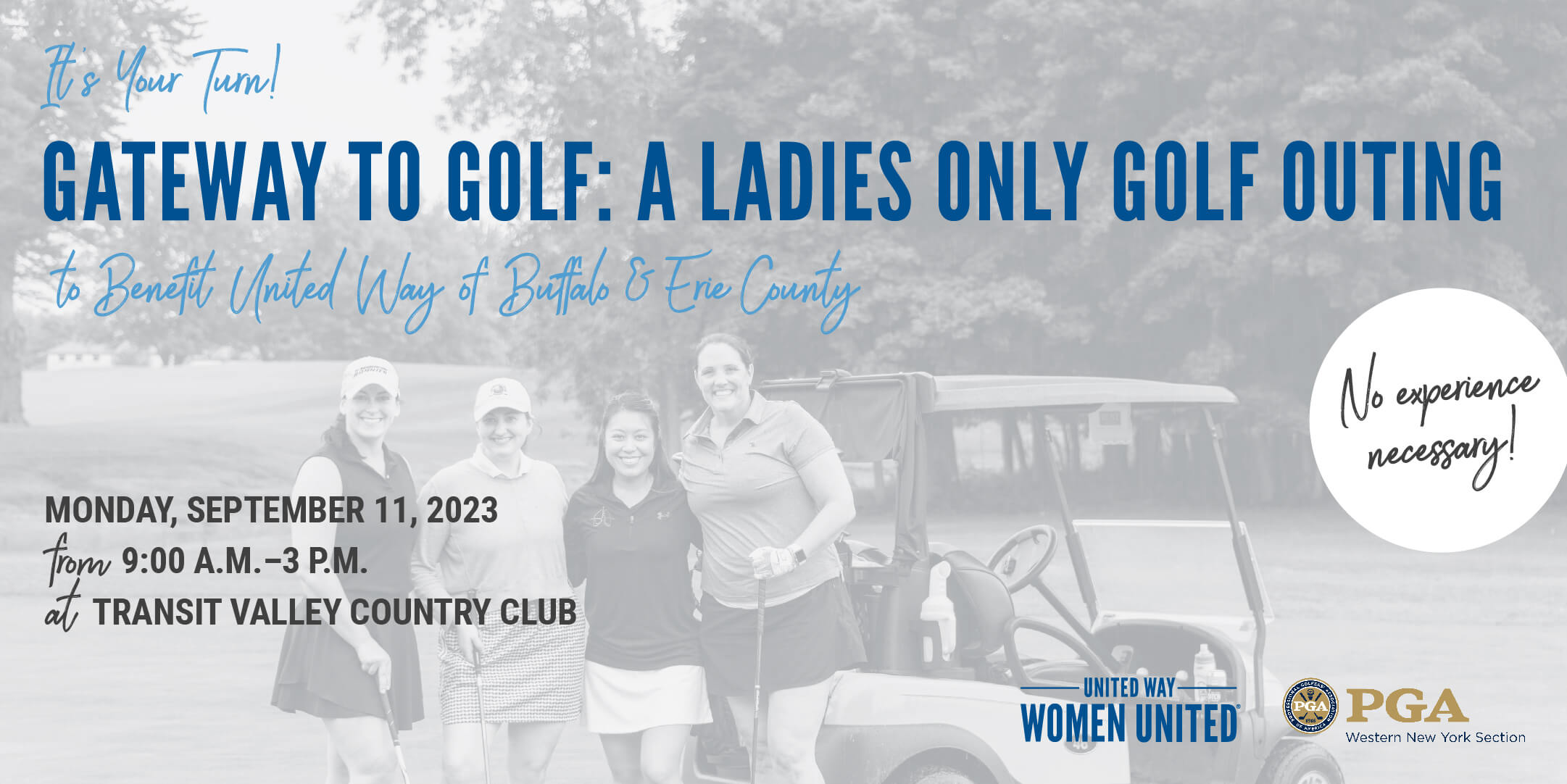 Welcome from the co-chairs
Women United is a giving community of United Way of Buffalo & Erie County, designed just for women leaders. We are a network of like-minded women who inspire and motivate others through philanthropy, leadership, and volunteerism. Members mobilize the caring power of women as they work to improve our community's health and well-being, education, and financial stability.
A powerful philanthropic force, Women United also facilitates conversations and initiatives with the goal of promoting equity and empowerment for women—at work and at home.
Over the last several years, women's participation in golf has grown tremendously. Women bring unique perspectives, skills, and talents to the golf course, just as they do in every aspect of their lives, enriching those around them in countless ways. It creates a fantastic opportunity to make new connections, promote physical fitness, and challenge your mind in new and interesting ways.
As you get ready to tee off today—whether you're hitting a golf ball for the first time in your life, you've been playing for years, or you're somewhere in-between—remember that you are part of a community that encourages and supports each other.
Enjoy the day, make new friends, build relationships, and savor the experience of learning and playing golf!
Good luck,
Tricia Barrett, Althea Luehrsen & Jeannie Parent
2023 Gateway to Golf Co-Chairs
---
Sponsor Spotlight: Wegmans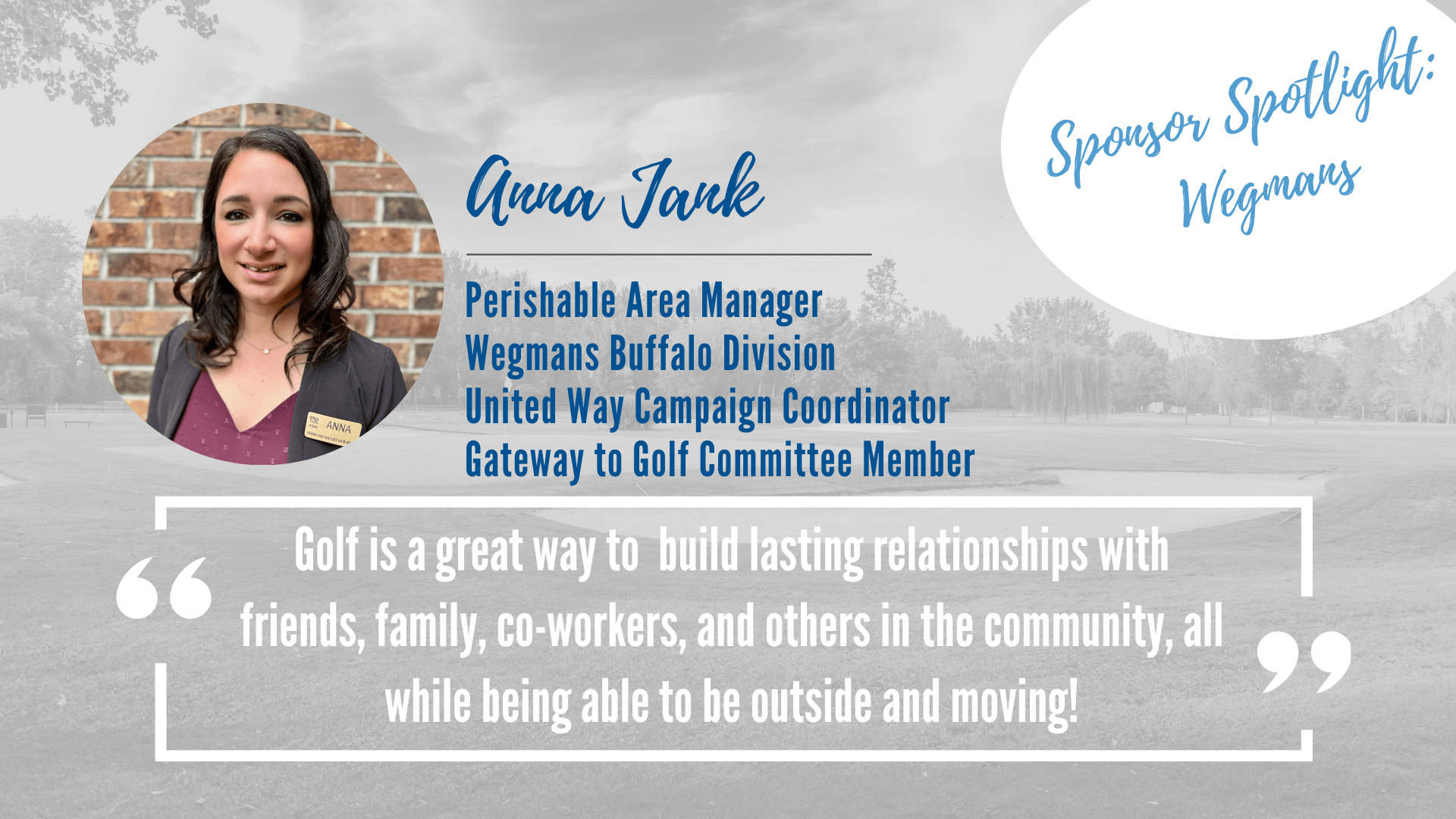 Recently we sat down with Anna Jank who is the Perishable Area Manager Buffalo Division and United Way Campaign Coordinator for Wegmans, to talk about why she is so excited for Gateway to Golf!
Women United's Gateway to Golf gives women the opportunity to connect with other community leaders who are passionate about helping others. It allows us the space to bring education and awareness to the mission of United Way and ultimately fundraise for crucial support. My favorite part is that it gives women a safe way to learn something new, to work on their golf game, to be competitive, to learn golf etiquette and have confidence that they can leave our event and join other golf events. And it's fun!

Women being involved in sports and especially one that is male-dominated like the game of golf, allows us to continue to break down walls, push boundaries and pave the way for new generations of female athletes. We want others to be able to look up to women who play this sport and think "Hey, I can do that too!". Golf is a great way to network, to build lasting relationships with friends, family, co-workers and others in the community, all while being able to be outside and moving! Golf, Like other sports, makes such an important impact on life, leadership, character and confidence. And most importantly – women belong!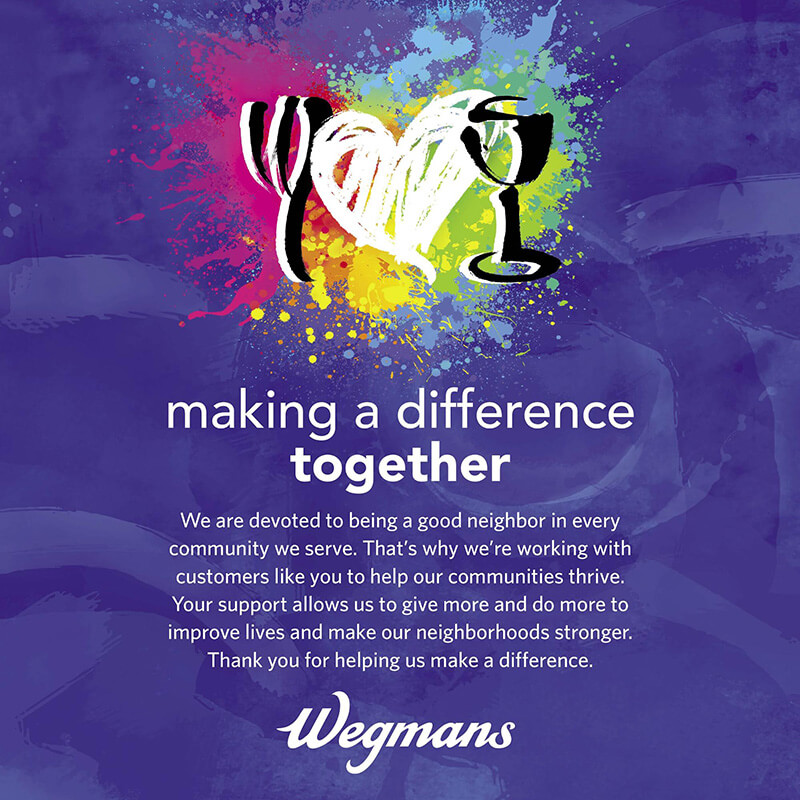 ---
Sponsor Spotlight: Impressia Bank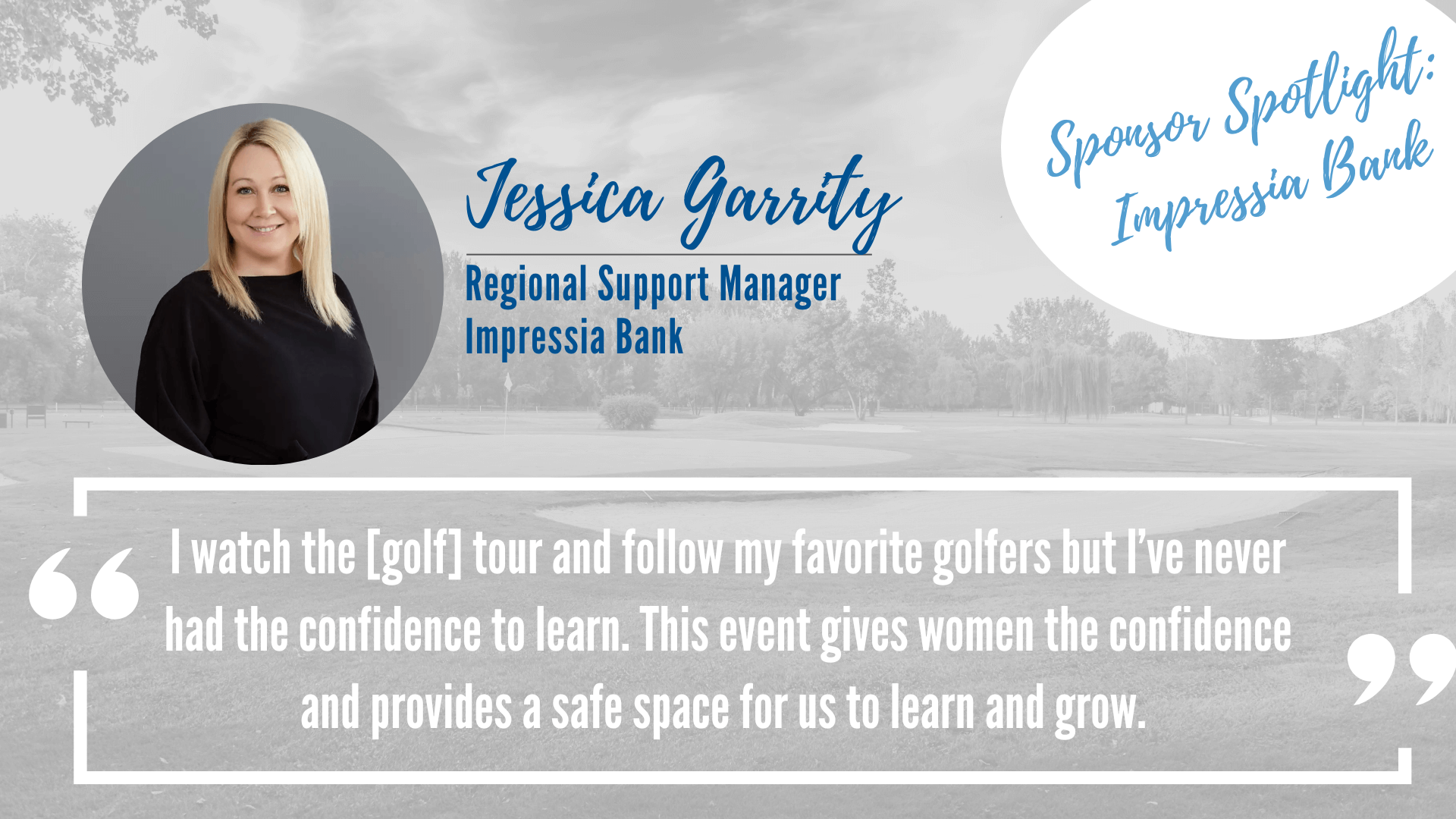 Recently we spent some time with Jessica Garrity who is the Regional Support Manager at Impressia Bank, to talk about why she is excited to take part in Gateway to Golf for the first time this year!
As I've never attended this event, I am most excited for the golf lessons I will be receiving. As an avid golf fan, I watch the tour and follow my favorite golfers but have never had the confidence to learn or try a tournament. This event gives women the confidence and provides a safe space for us to learn and grow.
Women can benefit from playing golf as a form of networking and making connections that doesn't always come from an office setting. I believe it creates awareness for women in all sports.
Being a native of Western New York and being able to come back to the city and work with these wonderful women, one of which is my sister, Jacey Brooks, Associate Head Coach of the UB Women's Basketball team, has been a true honor and privilege enabling me to connect with the women of Buffalo.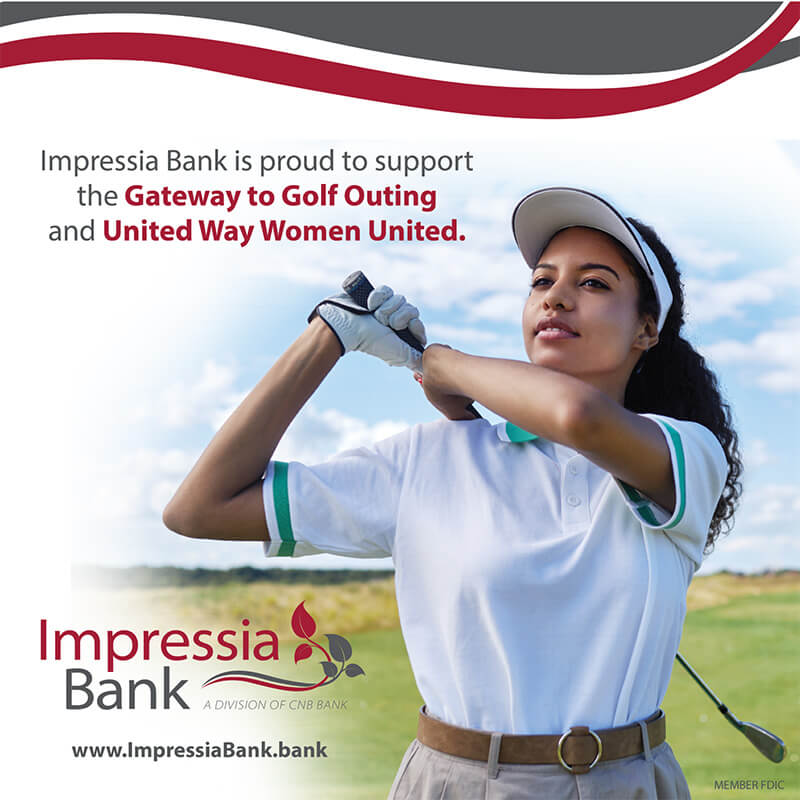 ---
Schedule of Events
9:30 a.m. - Light Breakfast
10:30 a.m. - Shotgun Start for 9 Hole Scramble
11 a.m. - Clinic Start
1:30 p.m. - Luncheon, Basket Raffle and Networking
---
10 important golf terms to know
1. Par: Par is the standard number of strokes that an expert golfer is expected to take to complete a hole or a round. It represents the ideal score for a hole or the sum of ideal scores for all holes in a round. Players aim to match or beat par to have a good round.
2. Birdie: A birdie is a score on a hole that is one stroke less than par. For example, if a golfer completes a par-4 hole in 3 strokes, they've made a birdie.
3. Bogey: A bogey is a score on a hole that is one stroke more than par. If a golfer takes 5 strokes to complete a par-4 hole, they've made a bogey.
4. Eagle: An eagle is a score on a hole that is two strokes less than par. Achieving an eagle is considered an exceptional feat. For instance, completing a par-5 hole in 3 strokes results in an eagle.
5. Fairway: The fairway is the closely mowed, well-maintained area of the golf course that lies between the tee box and the green. It is the ideal location from which to play your next shot, as the grass is shorter and provides a good lie for the ball.
6. Green: The green is the final area on each hole, where the flagstick and hole are located. It is typically a closely mowed, smooth, and well-maintained surface. Golfers aim to get the ball onto the green and into the hole in as few strokes as possible.
7. Hazard: Hazards are obstacles on the golf course that can make play more challenging. There are two main types of hazards: bunkers (sand traps) and water hazards. Players must strategize to avoid these hazards to minimize their scores.
8. Tee Box: The tee box is the area where golfers start each hole. It is marked by tee markers and provides a designated spot for players to tee up their golf balls before taking their first shot.
9. Putt: A putt is a type of golf shot made on the green. It is a short and controlled stroke used to roll the ball into the hole. Putts are typically used on the green to complete a hole.
10. Drive: The drive is the first shot taken on a hole, usually from the tee box. It is a long, powerful shot used to get the ball as close to the green as possible, ideally in the fairway. A good drive sets the tone for the rest of the hole.
---
Save the Date
Have fun today and want to join other Women United Events? Mark your calendars!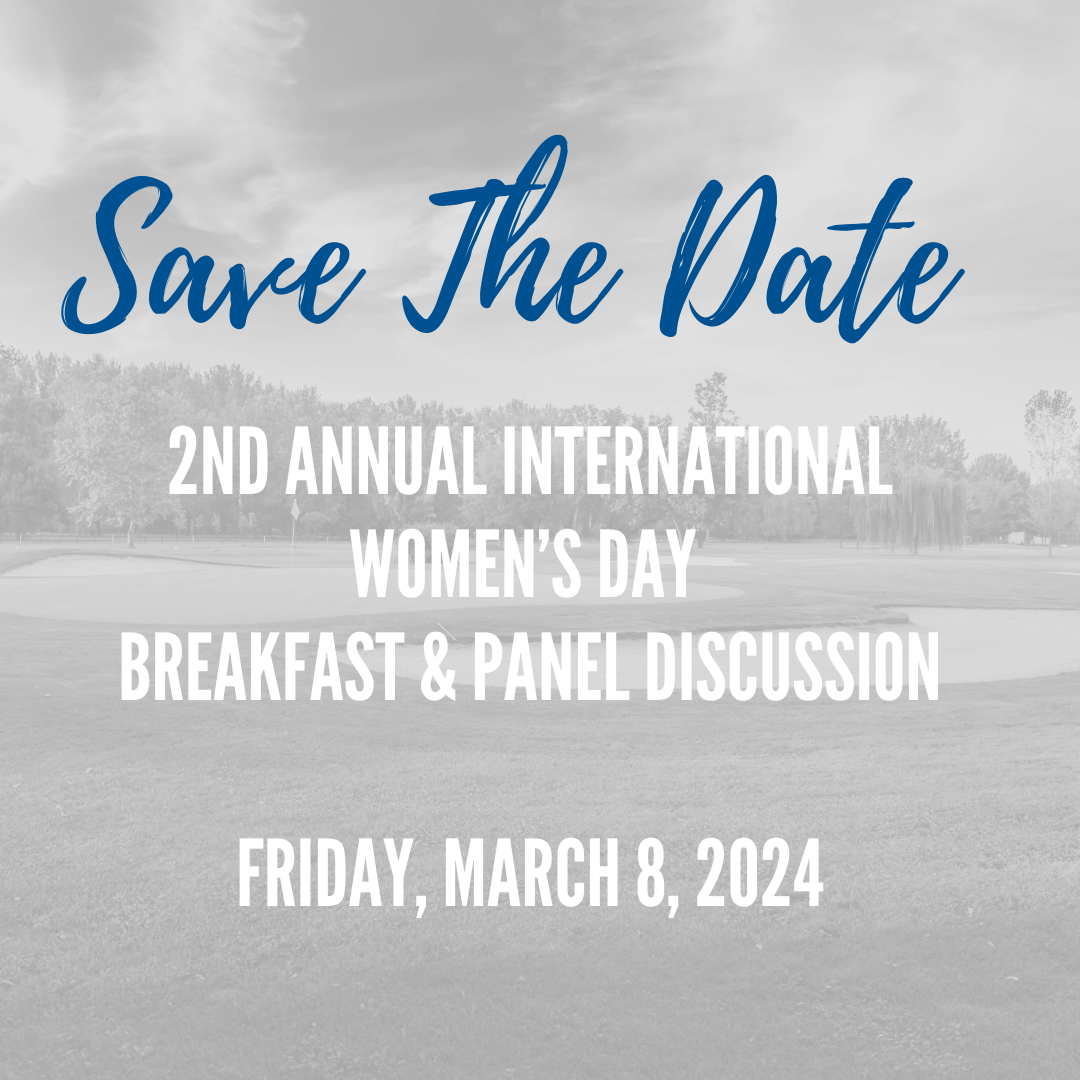 ---
Gateway to Golf Committee
Committee Co-Chairs *
Jamie Batt
Rupp Baase
Tricia Barrett*
Crowley Webb
Tania Castillo
Univera
Chavuanne Cousins
M&T Bank
Leigh Farah
Hunt Real Estate
Jasmine Foster
Buffalo State
Anna Jank
Wegmans
Patty Kaminski
Wegmans
Emily Kuch
Merril Lynch
Lisa LaTrovato
Hauptman-Woodward
Medical Research Institute
Mary Kate Loftus
Impressia Bank
Althea Luehrsen*
Leadership Buffalo
Mollie Mars
Western New York PGA
Justine Nadherny-Borutin
Top Seedz
Jeannie Parent*
Launch Leadership
Victoria Schiro
Western New York PGA
---
Women United Advisory Board
Co-Chairs *
Bernie Aja
Community Volunteer
Tricia Barrett
Crowley Webb
Jamie Batt
Rupp Baase
Maggie Best
Lawley
Tania Castillo
Univera
Chavuanne Cousins
M&T Bank
Laura Dolan*
Bank of America
Rashida Dowell
M&T Bank
Jasmine Foster
University at Buffalo
Gretchen Geitter
Buffalo Bills
Nina Heard
General Motors
Leigh Farah
Microsoft
Patty Kaminski
Wegmans
Emily Kuch
Merrill Lynch
Lisa LaTrovato
Hauptman-Woodward
Medical Research Institute
Mary Kate Loftus*
Impressia Bank
Althea Luehrsen
Leadership Buffalo
Kelly Murphy
Ingram Micro
Jeannie Parent
Launch Leadership
Stephanie Peete
Say Yes
Colleen Reedy
SUNY Empire State College
Catherine Roberts
Community Action Organization
Thomasina Stenhouse
Community Volunteer
Kayleigh Terranova
Community Volunteer
Alison Wilcox
Double H Ranch
Robin Wolfgang
Trocaire College
---