OTE Spotlight Lucas
Wednesday, September 28th, 2022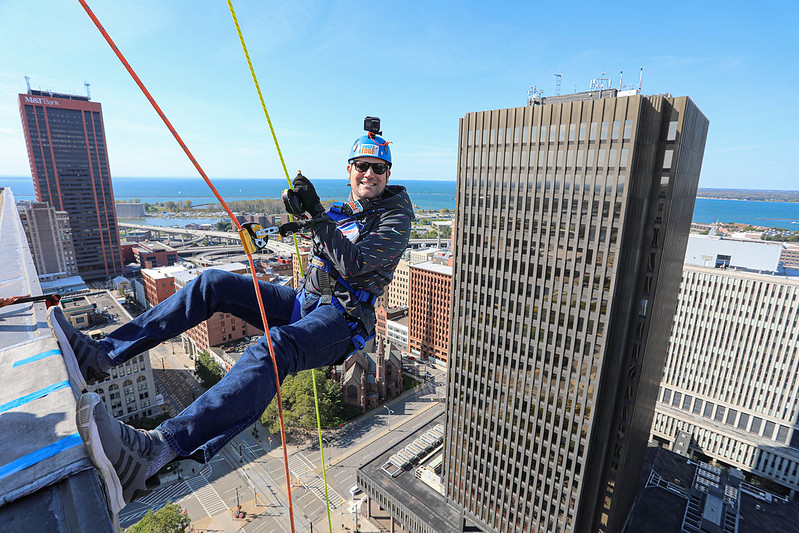 Tell us about your decision to support Over the Edge.
I'm a little bit of a thrill seeker and have done a fair amount of rappelling before, but to get a chance to rappel down such a tall building in downtown Buffalo was too good a chance to pass up! The real driving factor behind my participation (this is my second year) is a strong desire to do all that I can to help Oishei Children's Hospital. They are a great organization that helps so many kids, which is why my wife and I have OCH at the top of our list for philanthropic support.
What does the work of United Way of Buffalo & Erie County and Oishei Children's Hospital mean to you, your organization, and our community?
Both of our children were born at Oishei, and both of them had to spend a few days there very early in their lives with some medical issues. We were very fortunate that neither situation turned out to be anything of major concern, but our time there gave us a first hand look at the patients and families that are dependent on world-class care from people who are not only some of the best medical professionals, they are also some of the best humans. The care and attention we experienced and saw every day we were at OCH was something we will never forget.
What words of encouragement do you have for our rappellers?
Enjoy the experience! The biggest challenge is the mental game of that first step "Over the Edge" and letting your weight hang on those ropes. The rest is cake! Allow yourself time to take in the beautiful views and excitement the event has to offer.
What are you looking forward to about the big day?
The camaraderie of the participants is the best part. Everyone is excited, nervous, and maybe a little scared but these shared feelings and the experience bring us all together.
What would you tell someone who wants to support Over The Edge?
Do it! This is a unique way to support a great cause. Literally, every bit of support makes a difference.
There is still time to support the brave rappelers who are going Over the Edge to raise money for United Way of Buffalo & Erie County and Oishei Children's Hospital.
Interested in joining the fun and cheering on the rappellers as they go down 20 stories on Saturday? Be sure to check out the ground party!