Unpacking 5/14: A Community Conversation
Wednesday, July 6th, 2022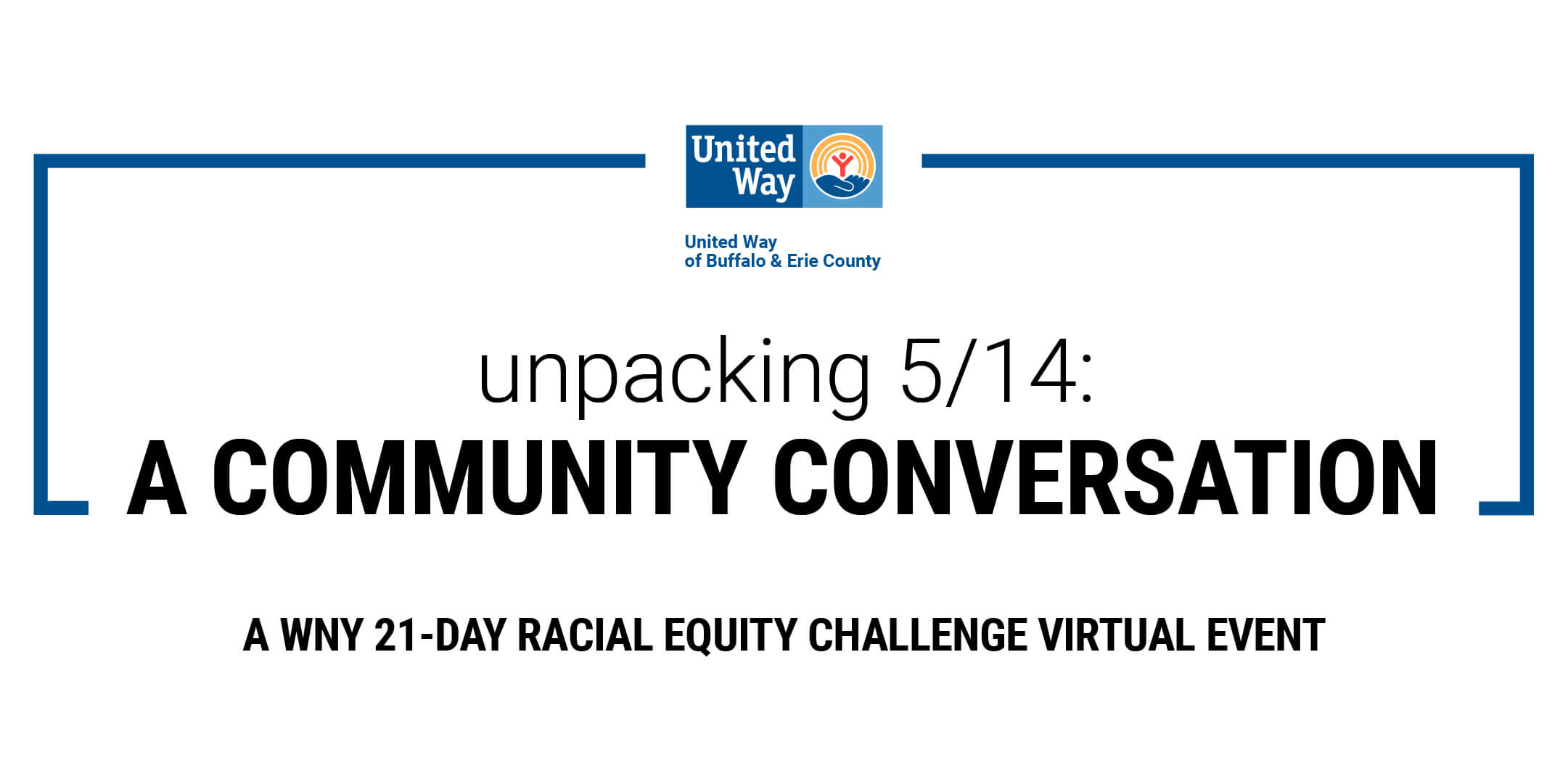 Moderated by Kendra Brim and Ekua Mends-Aidoo of Black Gems Dive In, Unpacking 5/14: A Community Conversation offers a thought-provoking look into selected 21-Day Racial Equity Challenge topics.
Our panelists will focus on the following topics from the WNY 21-Day Racial Equity Challenge:

Day 6: Trauma to Healing
Day 8: Opportunity and Segregation in Western New York
Day 9: Housing Inequity
Day 18: Being an Ally

We cannot hope to achieve systemic community change without first creating a common understanding of how we arrived at this moment.
While the Jefferson Avenue community continues to rebuild in the wake of the tragic, racially-motivated violence on May 14th, it is imperative that we as a larger community engage in purposeful work to understand and address our own biases.
Learn more about the WNY 21-Day Racial equity Challenge by visiting, uwbec.org/21daychallenge.
Our Moderators:
Kendra Brim and Ekua Mends-Aidoo, two amazing women and practitioners in the diversity and inclusion field, are no strangers to taking audiences through a deeper dive into DEI. Their podcast, Black Gems Dive In, provides a weekly conversation about inclusive cultures and everything in the Diversity, Equity and Inclusion space.
Kendra Brim
Kendra Brim is a DEI and racial equity practitioner. She brings close to 15 years' experience working in project management, healthcare, non-for-profit organizations, education, and tech.
With her background in project management, managing projects upward of $10 million, Kendra has been a critical driver to success within organizations. Kendra focuses to increase and promote cultural competency by creating substantive learning and formal transparent opportunities. She prioritizes relationship-building, and ensures each process is tailored to each organization's brand, mission, values, and goals. Kendra has her Masters in Business Administration from the University at Buffalo, Jacobs School of Management, and a Diversity & Inclusion Certificate from Cornell's ILR School.
Kendra Brim is a native of Buffalo, NY. She received a four- year Division I Basketball Scholarship to Colgate University where she majored in Political Science and minored in African American Studies. She is currently the Executive Vice President for the National Urban League Young Professionals. Kendra also serves as Vice Chair for the Buffalo Urban League Board, Board Member for the University at Buffalo School of Management Alumni Association, United Way of Buffalo and Erie County, and Say Yes Buffalo. In addition, Kendra is the co-host of The Black Gems Dive In Podcast. A podcast where she discusses inclusive cultures and everything diversity, equity, and inclusion. Her proudest achievement to date is establishing Black Restaurant Week under the Buffalo Urban League Young Professionals in 2018.

Some of Kendra's honors and awards include, Buffalo Business First IDEA Award (2022), The Buffalo Urban League Rising Leaders Award (2021), The Black Achievers Award (2019), NAACP Buffalo Branch, Daniel R. Acker Community Service Award (2019), Buffalo Business First 30 under 30 (2019), Commitment to Service Award from Mayor Byron Brown (2019), and the Nardin Academy Sports Hall of Fame (2018). In her spare time, Kendra enjoys watching movies, spending time with family, and traveling.
Ekua Mend-Aidoo
Ekua Mends-Aidoo has over 12 years of experience working with municipal government, non-profit and healthcare organizations. She has been responsible for implementing equitable policies, communications and programs that align with organizational strategic goals and vision, especially in diverse and underserved populations. She has been instrumental in shaping workplace cultures with an emphasis on maintaining employee engagement through strategic analytics and program design.
Building relationships with employees and advocating for equitable support and change is a major highlight of her work. She enjoys decision-making with influence from data and the employee experience. Ekua is a Cornell Certified Diversity Professional and completed an advanced certificate in Diversity & Inclusion at Cornell's ILR School. Last March, Ekua was recognized with Buffalo Business First's inaugural I.D.E.A Award (Inclusion, Diversity, Equity, Awareness) highlighting her work in the D&I space and was also recognized as a "Power 200 Woman" in Western New York by Buffalo Business First.
Our Panelists:
Thomas Beauford, Jr. President & CEO The Buffalo Urban League
Thomas Beauford Jr. is a business executive with over 20 years of strategic leadership experience in private industry and community board service. He is president and CEO of the Buffalo Urban League. Beauford was appointed to lead the historical civil rights, social justice, and community empowerment organization in August of 2020. Thomas most recently served as vice president at M&T Bank. Prior to this, Thomas joined HSBC Bank USA, N.A. in 2000, In 2001, he was selected for HSBC's International Secondee Programme, headquartered in London, UK. During his international assignments, he helped lead explosive growth serving as the Deputy Centre Manager of HSBC's Global Service Centre, in Bengaluru, India and lead a turn-around of the Bank's U.S., Australia, and New Zealand Operations from Kuala Lumpur, Malaysia. Thomas also completed research in Moscow and Astrakhan, Russia as an Earthwatch© Institute Environmental Fellow.
In 2006, Thomas relocated to Buffalo, NY with HSBC as Director of Strategic Planning, overseeing Project Management, Business Banking Contact Center, and operations centers locally and in Guangzhou, China. While at HSBC, he was a member of the CEO's Diversity Council and a founding member and chair of the African Heritage Diversity Committee. In 2013, he joined Citi in as Senior Vice President, Head of Global Billing and Receivables directing the consolidation of global billing platforms for the Corporate Cash Management and Institutional Client Group portfolio.
Currently, Thomas is a board member of Kaleida Health, Univera Regional Advisory Board, Buffalo Niagara Partnership, Visit Buffalo Niagara, Northland Workforce Training Center, and a Trustee of Medaille College. Thomas' past community and board service include Minority Bar Foundation of WNY, National Black MBA Association of WNY, Buffalo and Erie County Botanical Gardens, Buffalo Urban Development Corp.; International Institute of Buffalo; Community Health Center of Buffalo, and Urban Bankers Coalition-New York City. Thomas is a member of Alpha Phi Alpha Fraternity, Sigma Pi Phi Fraternity and Prince Hall Masons. He is a graduate of the State University of New York at Buffalo, holding an Executive
M.B.A., and an M.S. in Operations and Supply Chain Management. He received a B.S. in Business Management from Saint Peter's University.
An avid jazz enthusiast, he was born in Harlem, N.Y. and raised in the Red Hook section of Brooklyn. Thomas currently resides in the Buffalo, NY area with wife Stacy and is the proud father of two sons, Thomas III, Vaughn, and daughter, Jewel. The family are members of Friendship Baptist Church in Buffalo.
Kelly Dumas Chief Operating Officer BestSelf Behavioral Health, Inc
Kelly D. Dumas, LCSW is a licensed clinical social worker and has over 20 years of experience working in human services. Kelly has been employed for the past 10 years with BestSelf Behavioral Health in Buffalo, NY where she is the Chief Operating Officer. In her role as Chief Operating Officer, she provides administrative and clinical oversight to all agency programs, including more than 1100 staff with a budget of $90+ million. As Chairperson and founder of the agency's Racial Equity and Inclusion Committee, Kelly spearheads critical initiatives that continue to make BestSelf a leading employer in Western New York. Kelly earned her Master's Degree in Social Work from the University at Buffalo and her Bachelor of Arts Degree in Psychology and English from Emory University. She is also an adjunct professor at UB School of Social Work. Kelly is a graduate of Oishei Leaders of Color, a Health Leadership Fellow with Health Foundation for Western & Central NY, an advisory board member of the Erie County Commission on the Status of Women, and on the Regional Advisory Board for ColoRise. In 2020, Kelly was named a Buffalo Business First Woman of Influence and was recognized by the Buffalo Chapter of the Association of Black Social Workers in 2017.
She enjoys singing- particularly praise and worship, reading, and spending time with her husband, Reggie, and two children, Denise and Dennis.

DeAnna Eason Executive Director Housing Opportunities Made Equal
DeAnna Eason has devoted the majority of her professional life to educating and empowering the community in the fight to eradicate discrimination. In 2000, her passion for civil rights drew her to the work of Housing Opportunities Made Equal, Inc. (HOME), a civil rights agency founded in 1963 whose mission is to promote diversity and ensure the people of Western New York an equal opportunity to live in the housing and communities of their choice. In 2017 DeAnna was selected as HOME's Executive Director, but during her 20+ years with the organization, she has served in nearly every position including; assisting housing choice voucher holders in obtaining safe and affordable housing, counseling landlords and tenants on their rights and responsibilities under fair housing laws, and investigating allegations of housing discrimination. Under her leadership, HOME serves nearly 6,000 clients annually.
As a former Investigations Coordinator, DeAnna coordinated fair housing tests - strategizing, assigning, debriefing and interpreting more than 800 investigations to ensure providers adhere to fair housing law. Additionally, she has coordinated special testing investigations for the National Fair Housing Alliance, the Office of the NYS Attorney General, and the Fair and Equitable Housing Office of New York State Homes & Community Renewal.
DeAnna, a recipient of Medaille's Award for Academic Excellence, and the Mitzi Williams Award for Outstanding and Professional Service in the Cause of Fair Housing, earned her bachelor's degree in Psychology from the University at Buffalo and her master's degree in Mental Health Counseling from Medaille College. She is very active in the ministry and mission of Gethsemane Full Gospel Church, and is enthusiastic about youth mentoring. She enjoys singing and spending time with her family.
David Rust Chief Executive Officer Say Yes Buffalo
Building a movement to fundamentally transform the climate around education in his hometown is what attracted David Rust to lead Say to Education's work in Buffalo. Since accepting the post ten years ago, he has steadily built a coalition of staff and partners focused on fulfilling one of the most significant community renewal efforts undertaken in the region's history. Through the promise of a free-tuition scholarship program, Say Yes Buffalo scholars are eligible to attend more than 150 private and public institutions, including Harvard, Columbia, Notre Dame, Northwestern, and the University at Buffalo, as well as many two-year community colleges, trade schools, and certificate programs.

Prior to joining Say Yes Buffalo, Mr. Rust served as Deputy Commissioner for Youth Services/Social Services for Erie County where he managed a staff of 120 with a $14 million budget, with a primary focus on juvenile detention and diversion services, runaway/homeless youth services, and funding community-based, positive programs for youth. He also served the Department of Social Services on numerous interdepartmental projects with county agencies such as Family Court, Mental Health, Probation, and numerous community-based collaborations for youth.
He is a graduate of St. Bonaventure University where he earned both a Bachelor's and Master's degree in Business Administration Marketing/Management from the Russell J. Jandoli School of Journalism and Mass Communication.