Women United Builds Confidence and Connections on the Golf Course
Tuesday, March 8th, 2022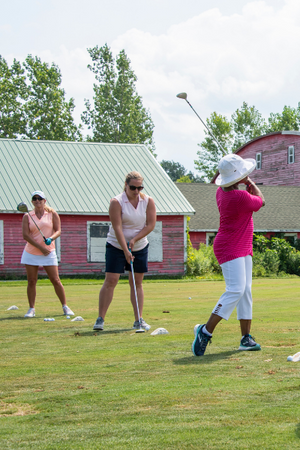 In 2018, United Way's Women United was looking for a new way to build awareness about the group and create connections between existing members. Their solution? Golf.
For many, golf is more than just a sport. It's a place where business networking happens. But women sometimes lack the experience to feel confident joining in workplace golf outings. Women United's Gateway to Golf, in partnership with the WNY PGA, set out to change that.
"Gateway to Golf gives women a chance to get out and play in a safe space where they can build their confidence," says Althea Luehrsen, Women United Advisory Board member. "There's no judgement."
Gateway to Golf is open to both Women United members and guests. Participants can choose to play in the 9-hole scramble tournament, or those brand new to golf can choose the Get Golf Ready on-site clinic, which covers all the golf basics. The event is also a wonderful opportunity to network with other community-minded women.
Victoria Schiro, WNY PGA Assistant Executive Director and COO, says, "my favorite part of being a golfer is the time I get to spend playing with friends, family, co-workers, and even sometimes strangers. For me, golf is less about the score and more about the connections it allows me to make. Keep it fun!"
Networking is one reason to be part of Women United, but it doesn't stop there. Luehrsen, who has been involved with Women United since its start nearly a decade ago, explains "having Women United championing the goals of United Way, fundraising and raising awareness of what United Way does, I am proud that I'm able to do that, to be part of the work and the mission."
Women United's Gateway to Golf returns September 12 at Transit Valley Country Club.
Want to be notified when registration opens? Sign up for our Women United Newsletter today: uwbec.org/womenunited